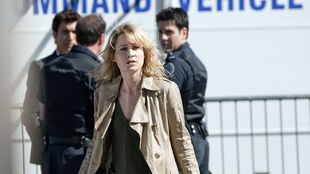 ''Jo Rosati is portrayed by Camille Sullivan, Detective Jo Rosati is a former girlfriend of Luke Callaghan and who was also a former partner who chose her career first causing the pair to break up and later episodes revealed that the pair had lived together for about 2 to 3 years''. After a long period of time Jo returned to division 15 regretting her decision of breaking up with Luke and tries to win him back as well as clashing with Andy Mcnally during the processes. Jo first appeared in season 2 episode 1 called "Butterflies" and later that season Andy and Luke got engaged but got called off after Luke cheated on Andy with Jo and it was also revealed that Luke used the same ring he used on his possible engagement with Jo as she implied the ring was origanally 'hers. 'Later that season Luke 'had 'told Jo his feelings causing her to leave division 15.
Ad blocker interference detected!
Wikia is a free-to-use site that makes money from advertising. We have a modified experience for viewers using ad blockers

Wikia is not accessible if you've made further modifications. Remove the custom ad blocker rule(s) and the page will load as expected.