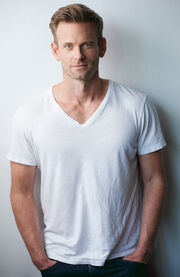 Eric Johnson is best known for his role as Whitney Fordman who is Clark
Kent's love rival on the CW drama series "Smallville". He also portrayed the teen Tristan in the "Legend of the Fall" and also he portrayed as Tyler in Ginger Snaps: Unleashed . His tv credits include The ghost whisperer, The Unit , Criminal Minds and The Dead Zone. He recently assumed the title role in the Syfy Network's Flash Gordon. He was showcased the made for television movie Scorn which won a 2001 Canadian television Gemini Award for Best Tv movie and he was also nominated for Best Actor.
Ad blocker interference detected!
Wikia is a free-to-use site that makes money from advertising. We have a modified experience for viewers using ad blockers

Wikia is not accessible if you've made further modifications. Remove the custom ad blocker rule(s) and the page will load as expected.